What Is the Scope For Jewellery Designing in India?
The history of Indian Jewellery is as old as Indian History itself. The art of wanting to beautify oneself has always been a part of every culture and jewellery has played a huge role in doing so. India has an enormous supply of precious metals and gems; it prospered due to export & exchange with other nations. Mughals reined in India during the 16th century. They brought along their knowledge and art of jewellery making to the flourishing artistic Indians. From head to toe, traditional jewellery highlights the aura of every Indian Woman.
The gems and jewellery sector plays a significant role in the Indian economy, contributing around 7% to country's GDP and 15% to India's total merchandise export. It employs over 4.64 million people, which is expected to reach 8.23 million by 2022. One of the fastest growing sectors, it is extremely export oriented and labour intensive. Based on its potential for growth and value addition, the Government declared gems and jewellery sector as a focus area for export promotion. The Government has undertaken various measures recently to promote investment and upgrade technology and skills to promote 'Brand India' in the international market.
Understanding the market and the trends of jewellery in our country, the scope has widened in this luxury field. Along with establishments of good design colleges in the country for jewellery. With luxury brand houses like Amrapali, Raniwala, Ghatiwala, Sunita Shekhawat or Birdhichand giving career opportunities to the new comers in this field and students with potential skill set to becoming a good designer the jewellery industry has now opened up its doors to new ideas, virtues, designs and trends making it flexible for freshers to find job opportunities in this field.
The Indian Jewellery Industry has space for many career opportunities not just for a designer but a diamond grader, gemologist, manufacturer, blogger, brand marketer, visual merchandiser, apprenticeship, professor and so on. Every job opportunity is a challenge in itself and takes a creative mind to work behind a plain sheet of paper.
Jewellery Designer
As a profession its about designing and creating jewellery collection. A jewellery designer can be a customer based for eg. Bespoke pieces, taking into the requirements of the clients. Jewellery designers can be of various types like fine jewellery designer, demi-fine designer, costume jewellery designer & etc. Before an article of jewellery is created, design concepts are rendered followed by detailed technical drawings generated by a jewellery designer, a professional who is trained in the architectural and functional knowledge of materials, fabrication techniques, composition, wearability and market trends.
Manufacturer
"Jewelry manufacturer" is a business that makes jewellery. They may be a contract manufacturing service that makes other people's designs. The manufacturer may also be specialized in one or more forms of jewellery manufacturing, ie casting, fabrication, or working with specific metals such as gold, or brass and different techniques like Filigree, enamel etc. Jewellery manufacturers may have wholesale distribution networks or have their own retail outlets.
Trend Forecaster
A trend forecaster is someone who is responsible for identifying new trends and predicting how those trends will shape a certain industry. Forecasting is an exercise of discipline, methodology and experience. Future scenarios can be mapped easily upto 2 to 5 years in advance, observing market trends, and socio-cultural phenomena including political and economic factors.
Diamond Grader
The grader studies the diamond for internal characteristics and judges them on the basis of five clarity factors: size, number, position, nature, and color or relief. The clarity grade is assessed on the basis of the most noticeable inclusions, the so-called "grade setting inclusions". Accordingly the diamond then is set for a particular price in the market.
Gemologist
Gemology is the science of studying, cutting, and valuing precious stones, but the essence of gemology is in identifying the gemstones. One who works in the field of gemology is called a Gemologist, and jewellers and goldsmiths also can be Gemologists if they do the study and get certified for the practice.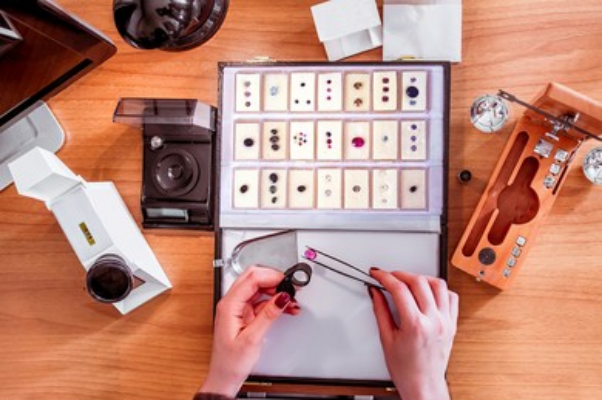 Lapidary
Lapidary is the practice of shaping stone, minerals, or gemstones into decorative items such as cabochons, engraved gems (including cameos), and faceted designs. A person who practices lapidary is known as a lapidarist.
Jewellery Journalist
A journalist is an individual trained to collect/gather information in form of text, audio or pictures, processes them to a news-worth form and disseminates it to the public. The act or process mainly done by the journalist is called journalism. One can write articles about jewellery, jewellery trends, jewellery industry news and publish in magazines.
Jewellery Bloggers
A blogger is someone who writes regularly for an online journal or website. A jewellery blogger might provide weekly update on news, trends, brands and collections. Other types of bloggers keep a website which may include diary-like entries, photographs, and links to other sites.
Bloggers like – Preeta Agarwal and Katerina Perez are some of the best in the world for jewellery blogging.
Visual Merchandiser
Visual merchandisers use their design skills to help promote the image, products and services of retail businesses and other organisations. They create eye-catching product displays and store layouts and design to attract customers and encourage them to buy.
Jewellery Photographer
Someone who has specialised in photographing jewellery, gem stones and luxury items. For eg: Simon Martner
Accessory Designer
An accessory designer is responsible for conceptualizing and creating a range of products that compliments the costumes and images. The designers study trends, sketch designs and work in fashion products such as jewellery pieces, handbags, belts, scarves, hair accessories, footwear etc.
Jewellery Stylist
A Jewellery stylist is an artist who enhances your everyday to special occasion look using jewellery, bringing out your personality, your facial features and your skin tone." Occasions and events make jewellery choices all the more tough. When it's your occasion your looks must define you.
CAD Designer
Computer-aided design is the use of computers to aid in the creation, modification, analysis, or optimization of a design. CAD software is used to increase the productivity of the designer, improve the quality of design, improve communications through documentation, and to create a database for manufacturing.
Entrepreneur
An entrepreneur is an individual who creates a new business, bearing most of the risks and enjoying most of the rewards. For example starting your own jewellery brand.